NDIS SOFTWARE PROGRAM TO MANAGE
ROSTERING AND SCHEDULING FOR THE NDIS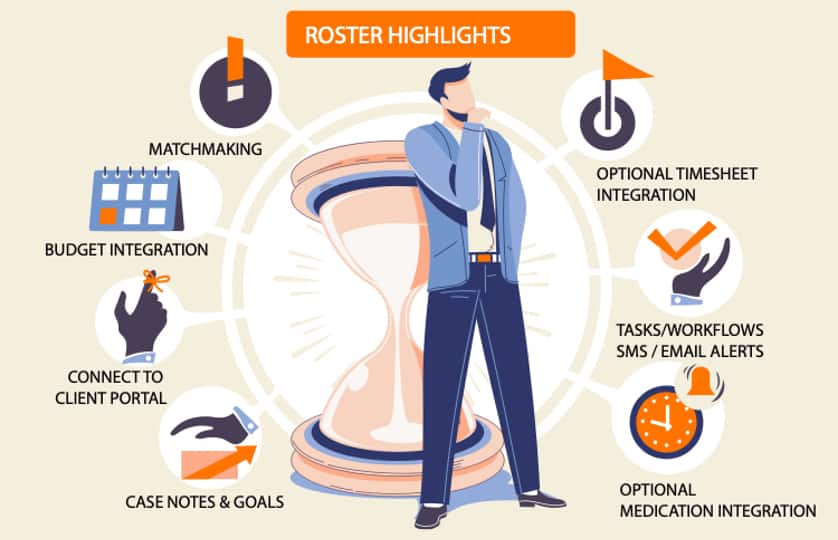 NDIS Roster and scheduler management software for small and large Australian Service Providers managing NDIS participants & AGED CARE consumers.
Flowlogic is handcrafted in Australia to manage rostering and scheduling that meets the unique needs of NDIS and Aged Care providers. Our scheduling software makes it easy to manage the entire mobile workforce and coordinate participant and consumer care between mobile workers, caregivers, support staff, and schedulers.
Manage participants, consumers, care plans, recurring rosters, progress or case notes, goals and outcome & NDIS payments
Create and edit rosters or appointments, check staff availability and if suited, or in overtime, or not enough funding and manage recurring shifts. Send notifications in seconds. Built-in SMS functionality communicate with everyone or any single staff member. Be proactive with care appointments have the correct qualified care worker our roster qualification tracking you can easily schedule the right employee for each visit. NDIS price guide is preloaded or if you are using your own Price Guide, you can import it too.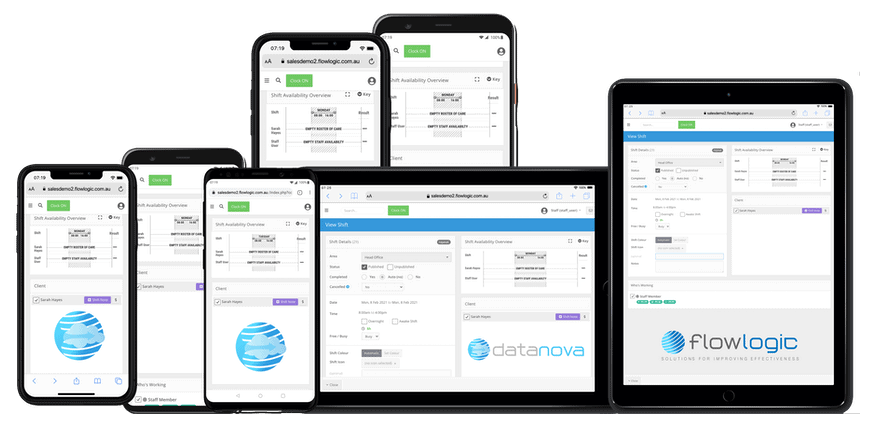 ROSTERING SOFTWARE DESIGNED FOR DISABILITY AND AGED CARE
Flowlogic's roster engine comes with integrated rostering, accounting and finance interfaces direct to XERO or MYOB no need to worry about mix-and-matching to other software. It's also supported by a powerful workflow engine that keeps track of medication management or what needs to be done and by whom.

Flowlogic now includes Roster of Care with supported visually graphical interface to describe the support a participant will receive get during a typical week.
Our Roster of Care will show how many support staff and any housemates the participant needs. In NDIA lingo this is called your support ratio. The Roster of Care lists the times and days you need this support. Our RoC also list times when you don't need SIL supports. This includes time spent with family or friends, on holidays, at work or time spent at a day program. Please visit datanova for more information about the Roster of Care (RoC) features.
Timesheets & Attendance
Tailored to meet the specific needs of any businesses, align employee performance with company goals and core strategies. Onboard new employees with applicant tracking. Specific industry staff management.
Rostering & Scheduling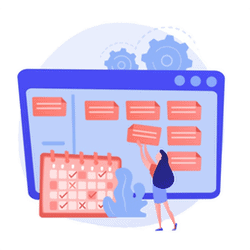 Enable your particpants or consumers to log into a self serviced client portal and see the people they are work with base on who is rostered, check appointments, goals and outcome plus care plans and check current service status with hours left .
CASE NOTES & GOALS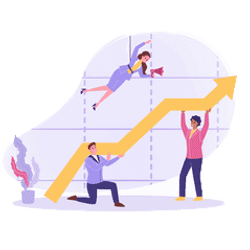 Bulk and Single NDIA claims to Proda. NDIS reconciliation, financial reports. Multi-funding stream, Service management & tracking. Batch processing. Track income and expenditure in real time. NDIA Budgeting & forecasting.

What are you waiting for? We love to hear from you!
One simple step to explore our NDIS software program in action! Please book a complimentary webinar or call us on 1300 552 166! Alternatively, send an email to our friendly Digital Business Solution Architects. We will get back to you shortly.
NDIS ROSTER | NDIS ROSTER OF CARE (ROC) | DISABILITY SERVICES MANAGEMENT SOFTWARE